Giba Conceição
(leia o mesmo em Portugues)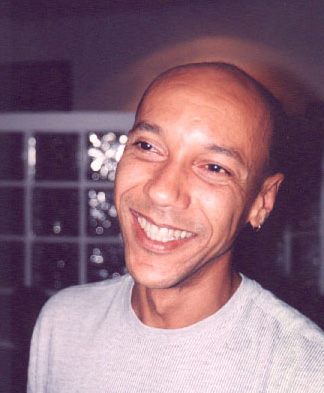 Bahia is famous for its mixture of races that generated a joyful and creative people deeply engaged in the mysticism of Candomble, the Brazilian syncretism of African and Catholic traditions. The "Baiano" possesses a singular zest for life that is inextricably linked with and expressed through music and dance. It is not a surprise that Bahia has produced some of the most recognized artistic talents, both nationally and internationally.
Giba Conceição is one of these people.
Born in a Bahia with a gift for music, Giba has been developing his rhythmic creativity since he was a child.
Now counted among the top Brasilian percussionists, Giba launched his professional career in 1986 and in 1987 won the Troféu Caymmi 'Best New Musician'.
His work is rooted in the deep mysticism of Candomblé &endash; the Brazilian syncretism of African and Catholic traditions &endash; and he specialises in the historical research and technical mastery of the Cuíca.
Throughout 1994 Giba toured extensively in Europe and the Americas with Margareth Menezes and has played and recorded with wealth of Brasilian talent including Gilberto Gil, Gerônimo and Paulinho da Viola.
During his formative years Giba co-founded the Samba groups 'Samba Fama' and 'Samba Sexta Som' as well as playing with instrumental bands 'Grupo Pulsa', 'Auto Reverse' and 'Ilu Bata' and Carnival bands.
In 1996 he was invited to play with the band Zeed Resolution for the tour of Jimmy Cliff.
In 2000 Giba appeared as actor/percussionist in the FOX film 'Sabor Da Paixão' (The Woman on Top) directed by Fina Torres and starring Penelope Cruz and Murilo Benicio with a soundtrack by Tom Jobim.
In 2001, having seen his appearance in the film, Angolan percussionist and producer Victor Gama tracked Giba down in Bahia, to invite him to take part in his important research and recording project Odantalan. The project which aimed to access the cultural and spiritual heritage by uniting master percussionists from the African Diaspora.
The project took place in Luanda in March&endash;April 2002 and brought together Victor Gama (Angola), Kituxy (Angola), Hugo Candelário (Colombia), Felipe Villamil (Cuba) and Giba Conceição (Brasil), while Colombian anthropolist Ana Arango and Cuban Art Historian Barbaro Martínez-Ruíz researched and documented the event, which is now available in a book and on the Odantalan CD.
The project was a seminal experience for Giba, who has long been interested in researching percussive processes and investigating the roots of Afro-Brasilian music. 'As a percussionist, going to Africa is like returning to your mother's womb' he said.
In 2001 Giba was invited to act as Assistant to the Musical Director of the Igreja do Rosario Dos Pretos (BLACK CHURCH) and the Candomble orchestra 'Grupo Ofa'.
Giba has also worked as a percussion teacher at Carlinhos Browns Pracatum School of Percussion at Candeal de Brotas (2000-2002), and has hosted workshops in Bahia, XXXX and New York, exploring the four aspects of Brasilian percussion &endash; Candomblé, popular percussion, Capoeira and Afro-bloc.
He is currently developing a project of Live Looping Music, with Swiss guitarist and inventor Matthias Grob in Bahia. Its about a new kind of music that grows out of the use of electronics for the multiplication of the live played acoustic instruments. So far few percussionists in the world dominate this tecnique...
This is how it sounds so far